Welcome to the Eighties Channel tribute website!
Hi! Jeffro here. Can you believe it's been 10 years since America's FIRST true "All 80's" radio station signed on the air in Chicago? At 11:56am - Thursday, August 5th, 1999, Dona Mullen played "Last Dance" by Donna Summer. This signaled the quiet death of "103.1FM - Chicago's Heart & Soul." Next, a continuous loop of movie clips and TV theme songs from the 1980's played for 24 hours. At 12 Noon - Friday, August 6th, 1999, Big City Radio CEO Mike Kakoyiannis hit the button that gave birth to "The Eighties Channel - 103.1 WXXY!" This webpage looks back at a better time in radio.

Murphy In The Morning
w/ Robert Murphy
and JoAnn Genette
(6am-10am)


Dona Mullen
(10am-3pm)


Fred Winston
(3pm-7pm)


Jeffrey T. Mason
(7pm-10pm)


The Deep End
w/ Sandy Maxx
(10pm-12am)

Other jocks included: Chris Shebel, Mike Kendall, Dave Hilton, Karrie Flanigan, Frank Black, GiGi Hightower, Smokin' Joe Dawson, Kelly McNeil, Jim Shea, Diane Ducey, Brian Travis, Lyn Taylor, Mark Zander, Jay Money, Amanda Moreau, Matt Mateo, Paul Phillips and Scott James.

Wanna hear 1 year, 5 months, 23 days, 6 hours
of radio fun...in just 38 minutes? Take a listen!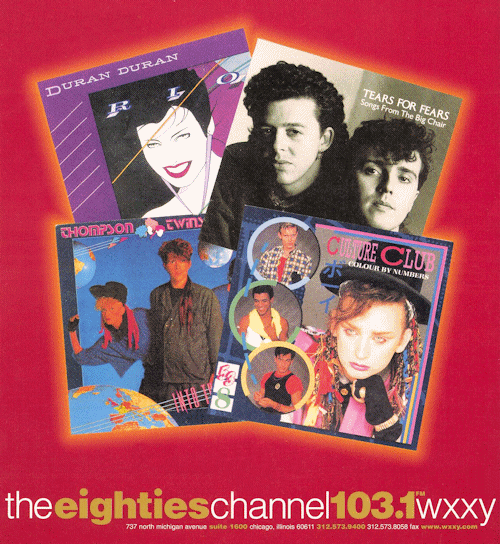 | | |
| --- | --- |
| Here's what Radio & Records had to say: | Here's what I had to say: |
The original "jingle plan" was to buy a (then current) 1999 jingle package from Reelworld, much like we had on our sister, 92 Kiss-FM. Being a "jingle geek," I persuaded the powers-that-be to let me take a different route. I was given a handsome budget of $10,000 to find the perfect jingles for The 80's Channel. My task was to recreate that distinct CHR jingle sound of the 1980's - from stations like WLS AM & FM, Z95, Q101, and even a little B96! I was able to purchase 20 cuts from JAM Creative Productions - my #1 choice for jingles.
It was an interesting order, too. We still weren't certain what our call letters would be! The original plan (believe it or not), was to buy the call letters WMTV from a TV station in Madison, WI. The plan was to draw a parallel to the original MTV of the 80's - since our playlist would be very similar. We soon realized WXXY was just TOO COOL a set of call letters to give up. Hell, we were basically playing the music of Generation X and even a little of Generation Y. It just made sense! And, frankly, I'm glad. The whole TV/Radio correlation was just too confusing for my taste.
OK OK...enough talk. Wanna hear those great jingles?


For the "geeks," this is a composite of Flame Thrower,
Z Force, Turbo Z, Power Station, Skywave, Warp Factor,
KIIS/90, Xyrock, HitPower, Maximum Power, 1FM, KDWB & Hot Wired.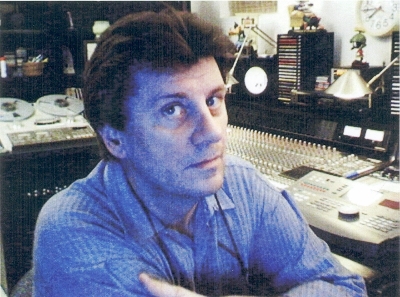 When we weren't playing jingles, we ran imaging
voiced by Eric "EE" Edwards! Such a PRO.

The Eighties Channel achieved top 10 ratings and even some award nominations!
I HATED going up against Sandy in the "Best Evening or Overnight Show" category. Of course, neither of us won that year. But, hey..."it's an honor to be nominated." Right? RIGHT.
| | |
| --- | --- |
| | "The Deep End" was SUCH a cool part of The Eighties Channel. Credit has to go to Frank Black, our first imaging director, for designing the show and playing the role of host for the initial 7 months of it's run. But, when Frank left for KNBR/San Francisco, Sandy took it to a whole new level! I've never known anyone with more passion than Sandy for the music they played. I think she spent another two hours a day PLANNING those two hours on-air! |
| | |
| --- | --- |
| WXXY did some creative marketing in 2000, with the addition of 3 separate billboards at random L platforms. They featured Duran Duran, Madonna & Cyndi Lauper, and promoted internet listening. There was even a TV spot! (Please excuse the quality.) | |
| | Occasionally, you'd even get to see our DJ's on TV. On one such occasion, Murphy In The Morning appeared on NBC 5's morning show. I will warn you - in advance - that this video ends prematurely. (My VHS tape ran out! How did we EVER get by without TiVo???) |
One of the big no-no's on The Eighties Channel was a "dead segue." That's when you play two songs back to back with NO form of identification in-between. We ALWAYS did one of three things: 1) Intro the song live. 2) Play a jingle. Or 3) Play a produced sweeper. Here's a studio list of jingles/sweepers available:
Dave Karwowski was our Marketing Director & Beth Livingston was Promotions Director - 2 awesomely talented people! They always made sure we had cool stuff to give away. Here's a cross-promote sheet we had in studio for jocks to use.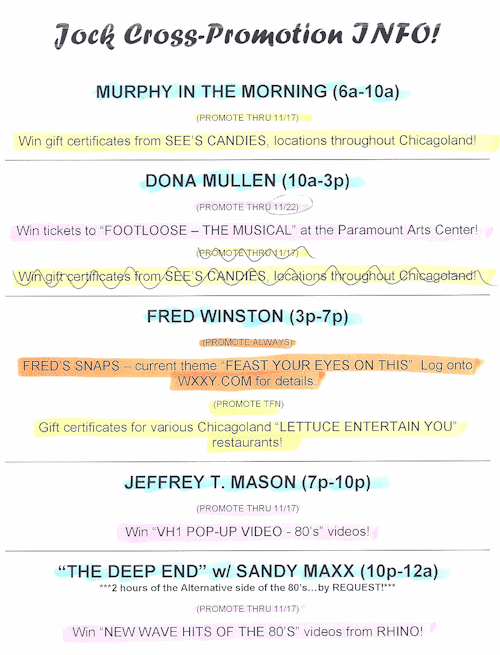 We ran two syndicated shows at The Eighties Channel: "Absolutely 80's with Nina Blackwood," and "Backtrax USA with Kid Kelly." They both ran on Sunday nights, and were great additions to the lineup. But, that's not why we initially signed up for the shows. NOBODY wanted to work Sunday nights! So, through the magic of syndication...in walked Nina and Kid.
This is how the business cards looked. As I recall, we based our logo on "Thirtysomething."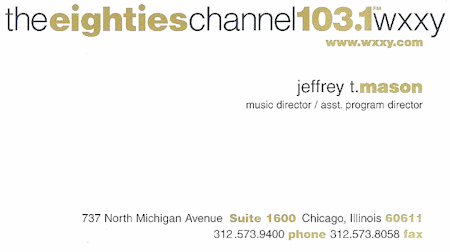 "THE BEGINNING OF THE END"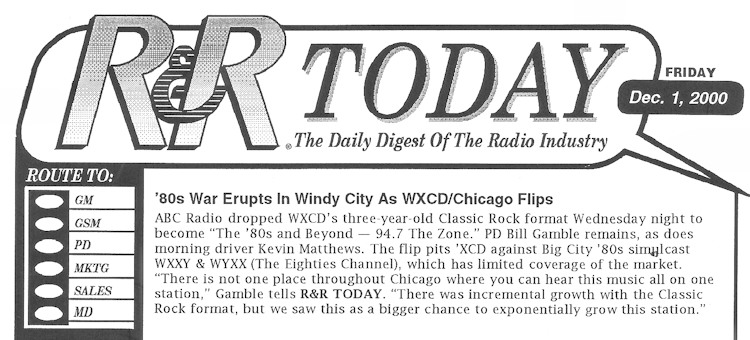 "THE MIDDLE OF THE END"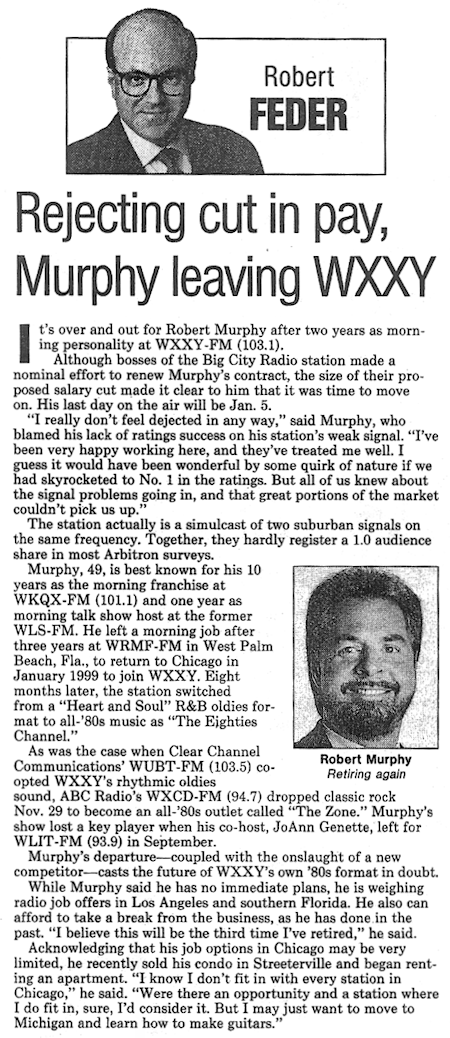 "THE END" (Coming as soon as I scan MY departure column from Feder!)